At the PCA UCR Tech Session last weekend, Lorenzo D'Alessandro, president of 427 Auto Collision, shared some of the changes his shop has adapted to over its 45-year history.
Bumpers are one example: It used to be that, when there was a scratch in a bumper, a collision repair technician would sand and spray with colour-matched paint (I'm oversimplifying, but you get the idea). These days, however, bumpers have sensors in them; and a lot more care is needed: Apply too much paint and the sensors will no longer work.
Then, there is Carbon Fiber. Lorenzo showed us a Carbon Fiber Lamborghini that 427 Auto currently has in. Carbon Fiber is a whole new ballgame because collisions may result in micro fractures that are not visible to the eye, yet could compromise the car's structural integrity. To find them, you need a $45,000, ultrasonic imaging camera. Yikes!
To find micro fractures in Carbon Fiber, you need a $45,000 ultrasonic imaging camera. Yikes!
After the session, I asked Lorenzo what car owners should consider when choosing a collision repair centre.
His top tip? Plan ahead by doing some research so you don't have to make decisions in haste when a collision occurs. If you do happen to find yourself involved in a collision, resist pressures to take your pride-and-joy to a shop you are unfamiliar with.
"Accidents are very emotional, and you can make irrational decisions. Do not let anyone or anybody push you into going to just any shop."
– Lorenzo D'Alessandro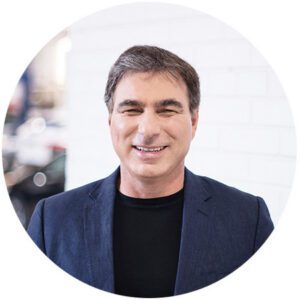 Here are 5 more tips from Lorenzo:
1.  Check reviews & recommendations
Look for facilities that have plenty of positive reviews–keep in mind, a lower number of reviews may not be an accurate representation of the facility. Also, get word-of-mouth recommendations–ask your friends, family, dealerships, local, trusted mechanics, and insurance companies. Check out collision centres' web sites and ensure the pictures and videos of the shops posted are real, and not borrowed. Find out how many years they have been in business. And don't forget to check with your insurance company–most reputable shops will have good relationships with insurance companies, and your broker may be able to recommend a facility.
2. Assess the facility
What does it look like? Is it clean? How about the staff–are they friendly or aggressive? Are they well organized? Most importantly, do they care about you and your vehicle?
3. Check for factory certifications
The best shops will have the training, education, proper procedures, equipment and 3rd-party audits. Always verify certifications by checking the factory web site. For example, if a collision centre is certified to work on Porsches, you will find the facility listed at http://porschecollisioncenter.ca/search.
4.  Check for industry certifications
Look for awards and industry certifications such as ISO 9000 and I-Car Gold. Also check for community awards and industry awards.
5.  Check the warranty
Reputable shops will give you a long-term guarantee on labour, while the parts they use will have a factory warranty.
Bottom Line
"Bottom line," says Lorenzo, "is, get your vehicle fixed at a place that knows how to fix it and that's backed up by dealers, factories and [where possible] insurance companies."
Picking the right shop isn't a cake walk; but, with a little research, you will find the best facility to repair your vehicle. Just make sure you do it early so you have a plan of action should you be involved in a collision.