If you live in Florida, you don't need winter tires. If you have a furnace in your home, however, you would do well to consider them for your vehicle. In this post, we'll look at how winter tires differ from all-season and summer tires, the value you get from them and best time to change over to winters.
How are Winter Tires Different from All-Season Tires?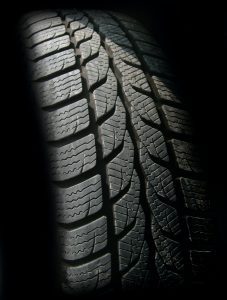 The most obvious difference is their chunky tread pattern that bites into snow and slush. In addition, each chunk ("blocks" in tire lingo) in the tread has tiny slits ("sipes") that help grip cold, wet, surfaces. The most important difference, however, is the rubber compound used in winter tires—which stays soft in cold temperatures, so they continue to stick to the road in the cold. If unsure whether a tire is designed for winter driving, look for the Three Peak Mountain Snowflake Symbol on the sidewall which indicates it meets industry standards for "severe snow service" conditions that include snowy, slippery roads and low temperature or freezing roads.
Are Winter Tires Worth the Added Cost?
Winter tires cost about the same as all-seasons, but you still need to buy an extra set of tires—typically at a cost of $600 – $800 ($CDN). If you live in an area where there is a lot of snow, winter tires are a no brainer. Even if you don't live in the snow belt, though, they are worth considering because they remain soft and grippy for steering and stopping on cold, slippery roads. All-season tires, on the other hand use a rubber compound that hardens in the cold weather—resulting in as much as 30% more distance needed to stop.
Look for the Three Peak Mountain Snowflake Symbol on the sidewall which indicates it meets industry standards for "severe snow service" conditions.

When Should You Change Over to Winter Tires?
The rubber used in most all-season tires begins to harden below 5C; and you'll want to start thinking about changing over to winter tires before the mercury dips below that. Do not wait until the first snowfall as it might be easier to get a reservation at Le Bernardin at that point than to get an appointment with a tire service centre. That said, making the switch to winters when the temperature is above 10C, while not hazardous, will cause the tires to wear down a bit faster due to the soft rubber they use.
Where can I take My Car to have Winter Tires installed?
If this is your first set of winter tires, you may want to consider visiting a tire service facility to discuss the options for your vehicle based on your tire size before buying (if you are not sure how to find your tire size, check out our post on Finding the Right Tire Size for Your Wheels). Also consider purchasing a second set of rims to install your winter tires on. This will increase your up-front cost, but will save the cost of removing and installing two sets of tires rather than simply removing one set of wheels and attaching the alternate set every fall and spring.
If you already have a set of winter tires mounted on rims, you may want to consider having the technicians come to you. That's right—there are services you can call that will show up at your doorstep and do the heavy lifting for you. If you live in the GTA, there's a great article by Evan Williams about this on wheels.ca (Mobile tire services can save you time by coming to you).